EP Piano Tuner App (ios)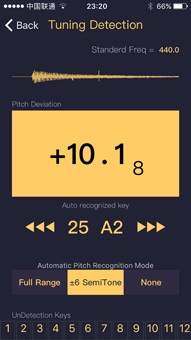 现价:¥0.00
添加时间:2017-07-03 00:23:00
This is the world's first piano tuner that can accurately detect pitch deviation in full range of piano.
Compared with other existing apps, the main feature of this software is that it is more stable and easy to use.
Using the free app, you can detect the piano tuning curve, detect the pitch deviation of a number of notes, and experience the product actually.
After the in app purchase, you can detect all notes for tuning a piano.
The Home edition app can save one piano tuning curve. After 90 days of purchase and installation, users can only re detect the tuning curve once every 90 days.
Please click the "download" in the navigation to download the User Guide and the article "Tuning piano with the help of a Piano Tuner App".
Please search "EP Piano Tuner" or "YiPu Music" in Apple Store.
Features:
Achieved more than 0.1 tone detection accuracy.
The full range automatic tone recognition mode can reliably recognize the full range of the piano and simplify the operation. Automatic recognition of ±6 chromatic mode automatic mode detection is relatively faster and has better anti-jamming ability, can adapt to the sound quality is not good and the noise environment. The manual mode has the strongest anti-interference ability and the fastest response speed.
Automatically detecting and calculating the tuning curve only need several keys.
It is more direct and accurate to use the figures to display the deviation value directly and quickly, which is more accurate and easier to observe and read. This makes there no need to keep a close eye on the display screen when the keystroke is pressed, and the app will keep to display the test results after the end of the tone.
Detection is fast and reliable. When detecting lowest note, it is only about 3/4 seconds to start showing the results. The highest note even if the time is very short, can be accurately detected.
Can indicate whether there is a significant beat interference.
Only built-in microphone supported.